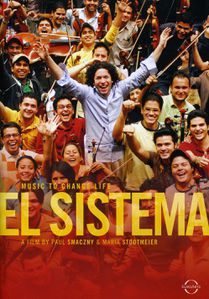 This DVD generates strong feelings . Since 1975 what has happened in Venezuela is the most extraordinary, the most enthusiastic artistic and social plan created by man: José Abreu has invented a system which demonstrates the strength of Art and uses it to help the weakest, the most destitute… A revolution called El Sistema.
The DVD is sold in support of Passeurs d'Arts.
When music teaching helps to get greater cohesion for a society in the grip of violence and poverty: This is the success of El Sistema, dreamt up issued from the gentle will of a man who believed in his compatriots. Unprecedented adventure and success are shared in this documentary.
José Abreu, originator of the El Sistema movement, explains his vision of the society regarding the music in Paul Smaczny's and Maria Stodmeier's film.
In 1975 politician and music lover José Antonio Abreu initiated the movement which today allows Venezuelan musicians to be recognised worldwide.
His brilliant idea consisted on using a musical education system as a kind of social improvement. By having young children play, he allows them to get out of a context of incredible city violence and of extreme poverty. Quickly assimilated into an orchestra or a choir they get used to the others, to working in groups and to pursuing a common purpose. So music has become a possibility for a better future.
Around the musical child who practices 4 hours a day, 6 days a week, his entire family and his friends and his neighbours are also carried away by the musical spiral. Today, in the whole of Venezuela, 265 000 children and teenagers are members of an orchestra or a choir. With the help of politicians, El Sistema has permitted the set-up of numerous structures which, all according to their level, help teenagers by bringing them new hopes and above all a start toward self-fulfilment, thanks to music and the orchestra. At the same time, a decrease of the juvenile delinquency has been noticed.
This young violinist is one of the numerous children filmed with great sensibility by the directors of the documentary El Sistema SEE THE TEASER (The DVD delivered by Feeling is subtitled French).
For Venezuela music has become an ambassador welcomed with open arms worldwide. The Simon Bolivar Youth Orchestra, El Sistema's linked orchestra born from, has made its debut at Carnegie Hall New York in 2007 under the direction of Gustavo Dudamel, today a very well-known orchestra conductor.
Paul Smaczny's and Maria Stodmeier's cameras, loaded with sensitivity and energy, lead us to grasp the meaning of El Sistema with a meeting with José Antonio Abreu, the charismatic initiator of the project, who places music and mankind at the centre of his faith. We also discover El Sistema through numerous children and families that we follow in their day-to-day lives, up to pupils' auditions and their integration to an orchestra or a choir.
At no time can we see misery or desperation, but what we see is a constructive will glowingly borne by young musician children and their teachers. When they express their fear of shootings which may happen when they leave school, shootings that take the lives of their young pupils, they manage to free themselves from their fear by looking far ahead at the promising future of country. But the following day, a child may be hurt, a neighbour may disappear... El Sistema will go on, because to stop to cry would be the end of all hopes.
Nobody is left out, as shown with delicacy in the picture scene of an 'Ave Maria' performed by the Choir with white hands, a choir of young deaf and dumb persons. They express themselves with their white-gloved hands in perfect synchronisation with music they don't hear.
This big orchestra, placed under the direction of Gustavo Dudamel, is per se the goal to achieve for every little musician.
The rhythm of the film is another success. This is owing to the wonderful work of the editor Steffen Herrmann, stressed with a clever, and sometimes spectacular, use of music such as this Valse  by Ravel performed with a rare softness which in surround sound fulfil the room fulfils in multichannel the room where we stand. Thus, several times the enlargement of the soundstage plays like the passage to a dimension both realistic, and in a manner of speaking, poetic. In this, this remarkable realisation direction is as faithful as can be to this system which is entirely based on music.
Indeed, who could have said that the Ouverture Fantaisie to Romeo and Juliette by Tchaikovski would be a cohesion tool for an entire population?
The film is in the original version with French subtitles.
A part of the proceeds of this DVD El Sistema is paid back to Passeurs d'Arts, who fights for and does its upmost for the set-up of children's' orchestras in French disadvantaged areas, following the model of El Sistema.
DVD BONUS
This young boy has not been retained to be part of the orchestra, however his optimism is a real lesson of hope. This message, and others, is conveyed by the wonderful documentary El Sistema.
In HD and original version with the same subtitles as in the documentary.
A section topic on the constitution of the National Children's Orchestra of Venezuela permits us to witeness a short speech of Gustavo Dudamel, who expresses his deep links with the orchestra, and to audition sessions aiming at recruiting 300 children of the 6200 who will attend. The feeling of a teacher on the selection difficulty is really relevant to the film, as well as this wonderful reaction, full of hope, of a boy who has not been retained, and which ends the chapter.
Four teasers trailers by the editor (one of which is in SD)
Pour être informé des derniers articles, inscrivez vous :